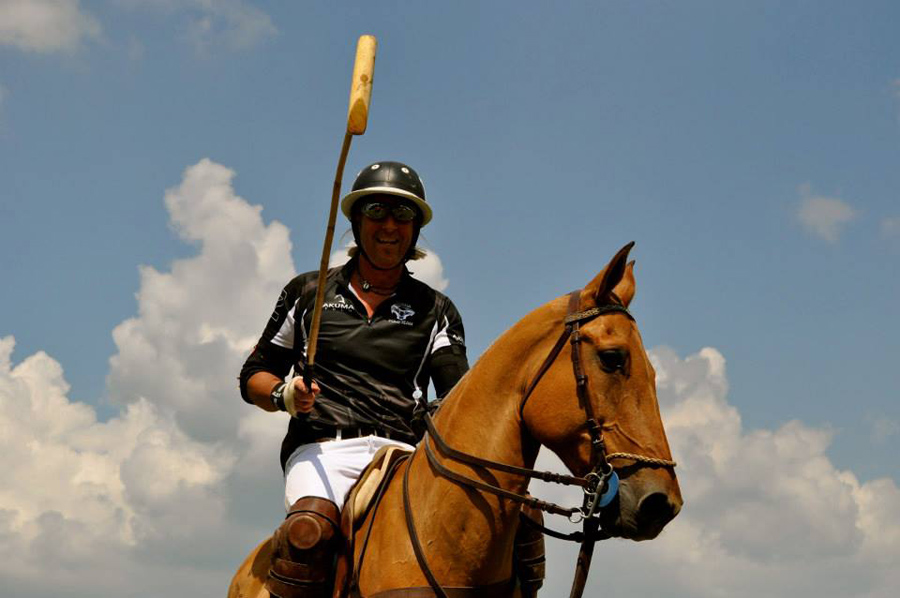 HELMET: Hard surface internally padded to protect players head. The external surface is covered in fabric or leather; thus the polo helmet is completely customizable. I can have 2 or 4 attachment points for the under-chin band. Wearing a face guard is optional and players can also opt for glasses. The current polo helmet still has the shape of the colonial English army's helmet.
SHIRT: Polo Shirt showing the colors of the team the player is part of in order to differentiate the teams on the field.
NUMBER: To identify players and position in the team.
MALLET: From 48 to 54 inches depending on the height of the pony and the reach of the player in adult polo. Generally made of cane, bamboo, or maple.
BOOTS: Brown or black leather boots with raised heels to keep the feet in the stirrups. The ankle part is strengthened in order to avoid any injury. The Polo boots are usually very thick in order to protect the player's legs from getting harmed by the ball or a mallet.
KNEE GUARDS: Protects the player's knees from injury from bumping and falls.
BREECHES: Strictly white jeans.
GLOVES: Protects the hands from friction and improves the grip both on the reins and the mallet.