The USPA America Cup is underway at Santa Barbara Polo Club. RH pulls ahead in the second week of the Maserati of Santa Barbara USPA America Cup with an overtime win against Klentner Ranch on Sunday to hold a 4-0 record. Klentner Ranch fired through the first two chukkers of the match creating a five goal lead, but a slow third chukker let RH back in the game. Two penalty conversions by Iñaki Laprida and a third goal from the field by Geronimo Obregon cut the lead to three goals. RH beat Klentner Ranch once again in the fourth chukker outscoring them 2-1 to leave the score 7-5 in favor of Klentner Ranch. A stagnant fifth chukker led into a fierce final chukker in regulation play. Obregon kept his head down and focused as the game clock ticked down.
Two goals by Santi von Wernich and a third by Laprida was matched by only one by the opponent tying the match as the final bell rang. Laprida sank a penalty four in the overtime to win the match for RH 11-10.
Earlier in the day, Lucchese dominated Farmers & Merchants Bank after a slow start. FMB led the scoring 5-3 n the first half of play with all but one goal being scored from the field. Penalties riddled the fourth chukker, slowing the game temporarily. Carlos "Toly" Ulloa showed his offensive prowess and helped push Lucchese forwards. Two goals by Hall from the penalty line tied the score at six goals a piece in the fourth chukker. Lucchese took control after halftime with three goals scored by Facundo Obregon and a fourth by Hall putting them in the lead for the first time in the game 10-8. Lucchese kept the ball rolling in their favor in the final chukker ending the match with a three goal lead, 12-9.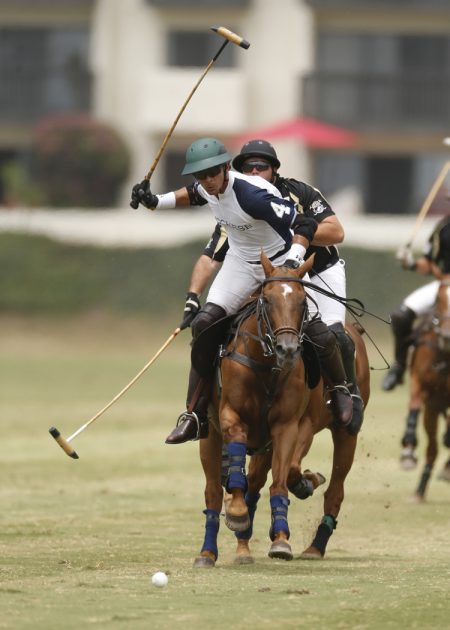 On Friday, Lucchese added another win to their tally defeating Sol de Agosto in a close 10-9 game. RH came ahead in their match-up against FMB 11-9.
Results:
Klentner Ranch 12-6 FMB
RH 12-7 Sol de Agosto
Sol de Agosto 10-9 FMB
Klentner Ranch 10-8 Lucchese
RH 11-9 FMB
Lucchese 12-8 Sol de Agosto
Lucchese 12-9 FMB
RH 11-10 Klentner Ranch
RH 12-11 Lucchese
Klentner Ranch 11-8 Sol do Agosto
Friday, August 10:
4pm, USPA America Cup Semifinal: Klentner Ranch vs. Lucchese
The final is scheduled for Sunday, August 12th:
RH vs Klentner Ranch/Lucchese
TEAMS:
Klentner Ranch: Jesse Bray 6, Mariano Obregon 6, Remy Muller 3, Justin Klentner 1.
Farmers and Merchant Bank (FMB): Danny Walker 2, Lucas Criado 8, Tomas Alberdi 4, Matt Walker 2.
Lucchese: Carlos Ulloa 3, Facundo Obregon 6, Jeff Hall 7, John Muse A.
Restoration Hardware (RH): Ben Soleimani A, Santi Von Wernich 5, Iñaki Laprida 7, Geronimo Obregon 4.
Sol de Agosto: Francisco de Narvaez 1, Paco de Narvaez 7, Adam Snow 5, Nico Escobar 3.